Audit Square ON-PREMISE
What is "On-premise" version?
Audit Square On-premise is delivered as a pre-installed virtual appliance. Technically it is distributed as a single VMware OVA image file.
How to get it?
First of all you need to have an account on our auditsquare.com portal. If you log in and choose License menu, you should see something like this.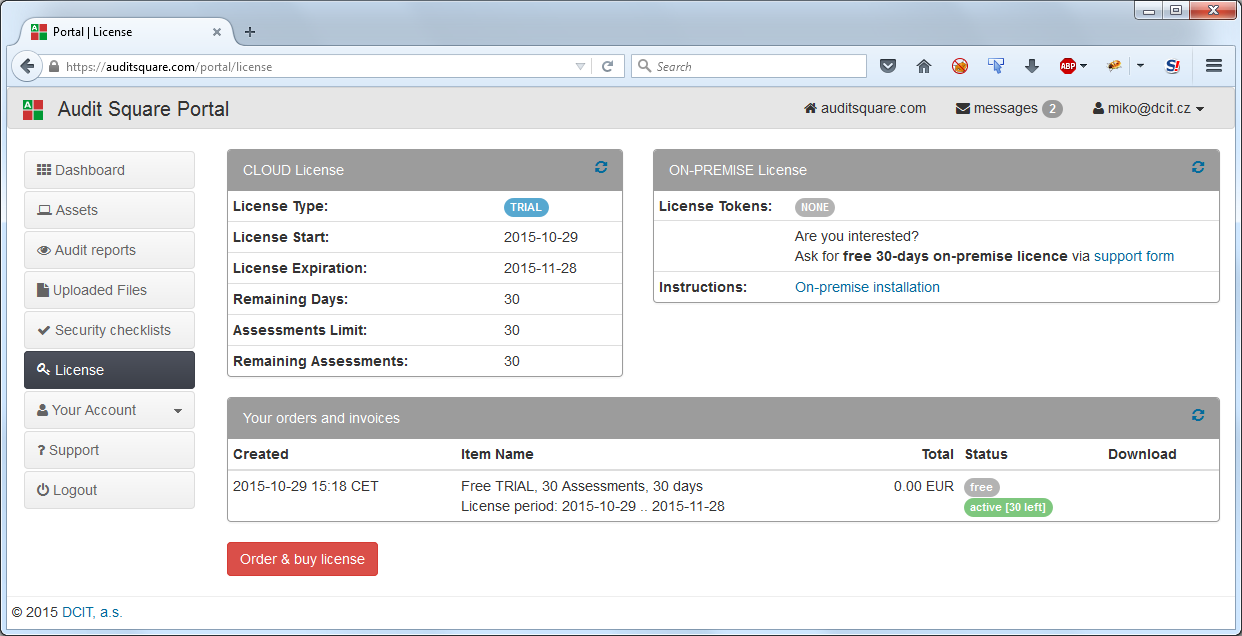 To get Audit Square On-premise licese you two options:
you can simply buy one via Order & buy license button
or you can ask for 30-days free license (please use the support form on Audit Square portal)
Once you have got On-premise license you should see something like this: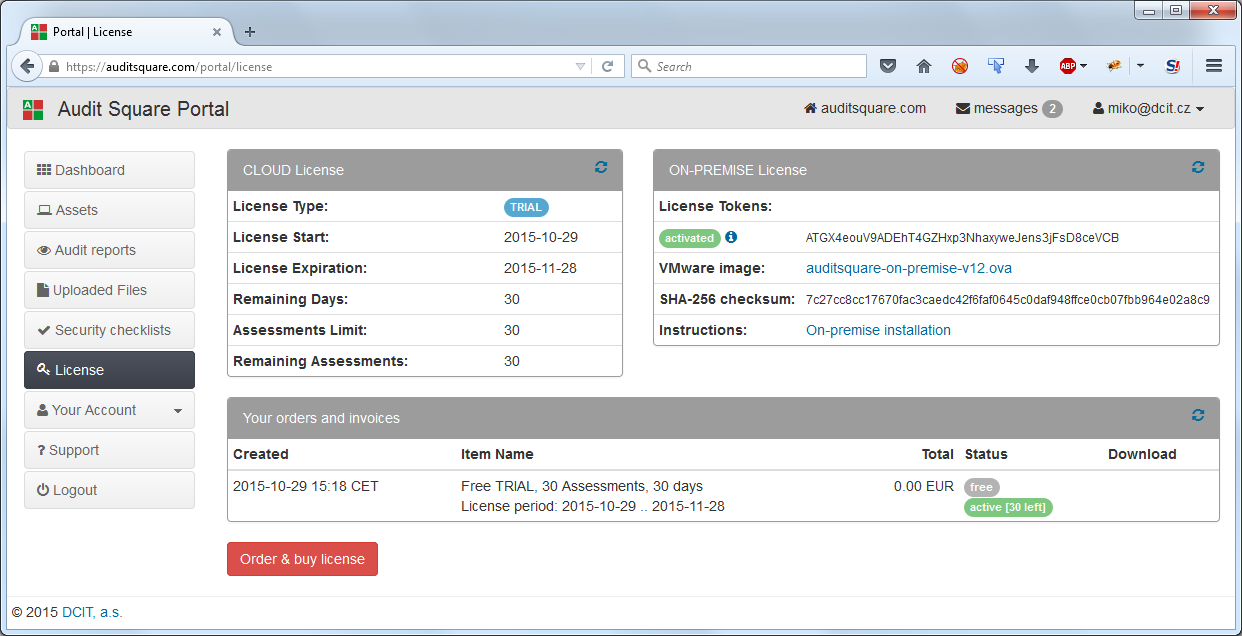 The important bits are:
License Token - necessary for appliance activation
VMware image - use the download link to get VMware OVA image file
Technical prerequisites
The following virtualization environment is recommended for running Audit Square On-premise:
VMware ESXi (5.5 or higher)
VMware vSphere Client
As for the resources Audit Square On-premise virtual appliance requires:
4 CPU
8 GB RAM
48 GB disk space
VMware image installation
Before you start you will need:
VMware OVA image file (approx. 1.3 GB)
On-premise Licence Token (44 characters long)
Network configuration:

Appliance fully qualified domain name
Appliance IP address + netmask + gateway
Your internal DNS server IP
Your internal SMTP relay (IP or DNS name)
Start vSphere Client and go to Menu > File > Deploy OVF template: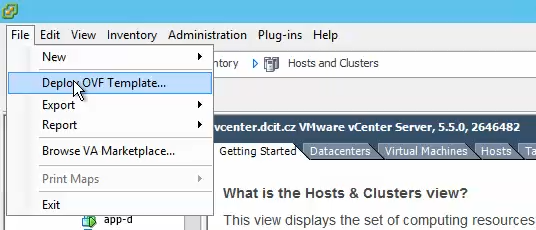 Then choose the downloaded OVA image file: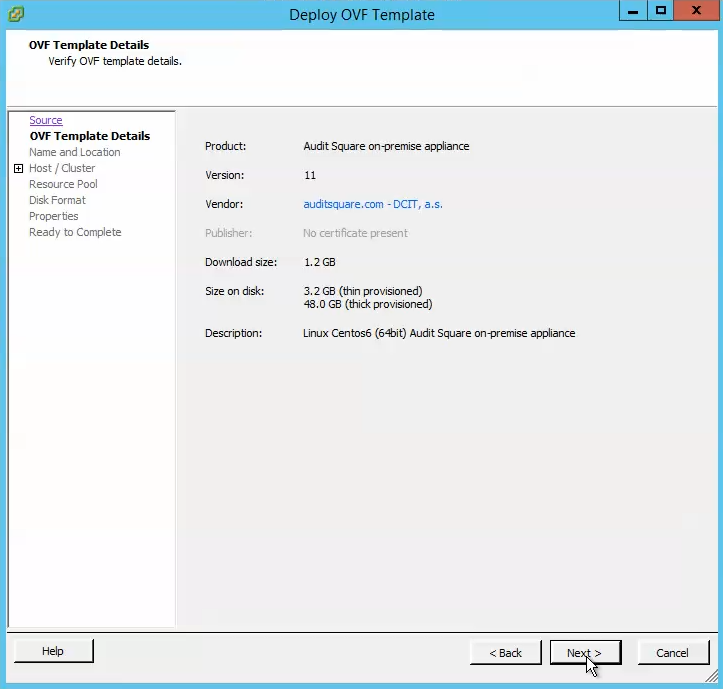 After couple of dialogues you should see the following screen where you have to enter the network configuration parameters for your appliance: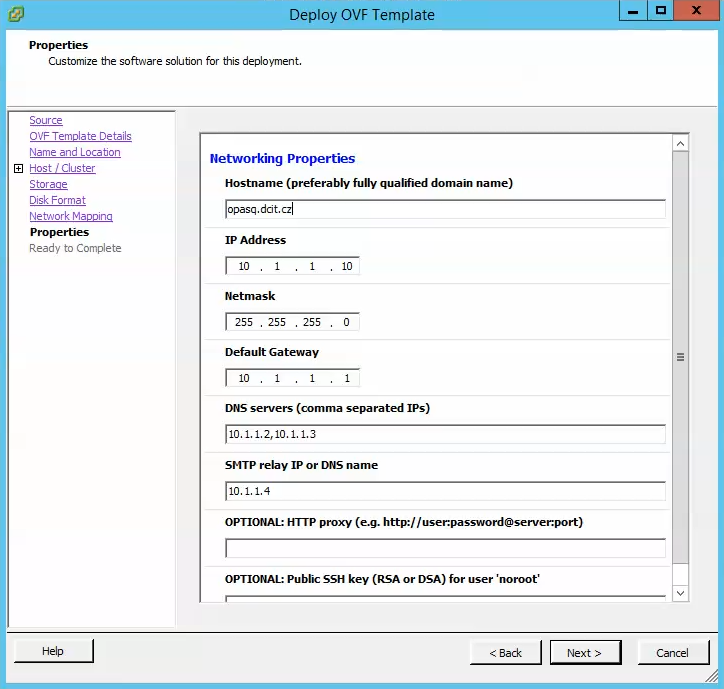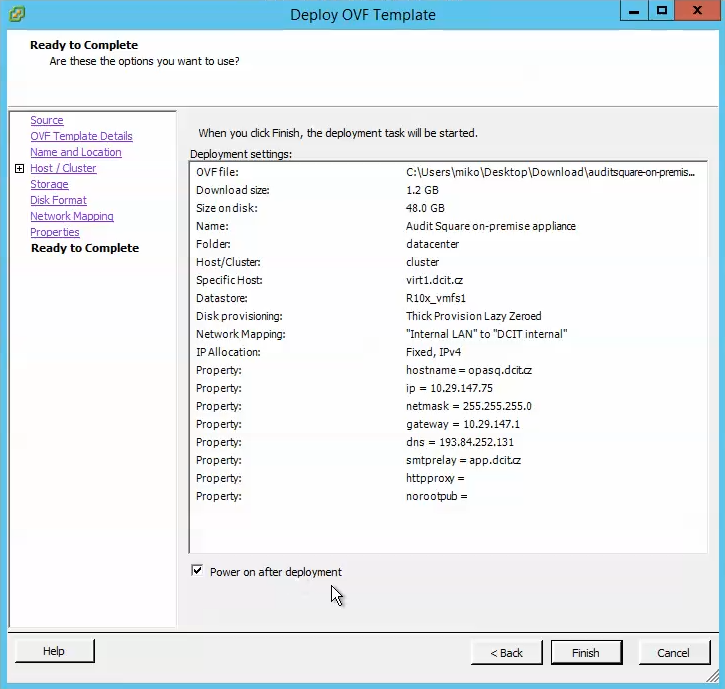 The first power on of the appliance should end up with the following console: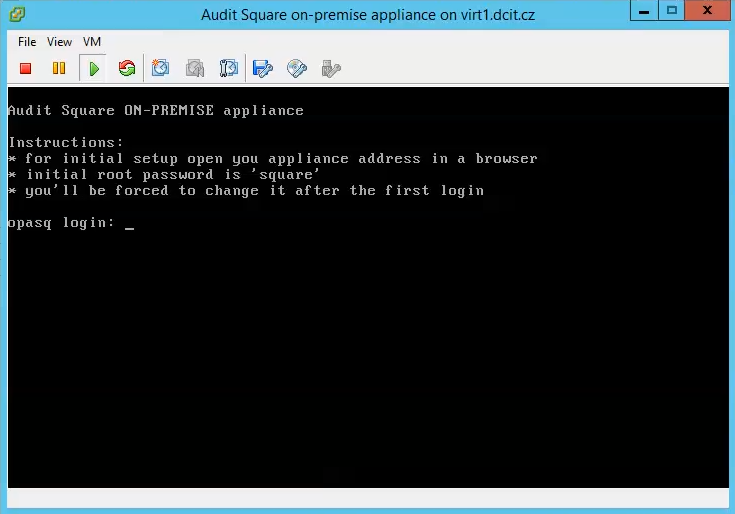 At this point we recommend to log in as a root and change the password (please note that root user can only log in from console, not via network, so the risks of keeping the default password are not high).
Appliance setup
Now you have to open your appliance address in a browser and enter your License Token:

At this point you may experience several kind of failures: * your licence token might be expired (you need to renew your license) * you are not connected to the internet (in this case you will be provided with information how to activate the appliance in off-line scenario) * your licence token was already activated on another appliance (each license token is valid for only one appliance, if you need to reinstall you appliance ask our support for token reset)
If the activation was sucessfull you will see:

Next you have to set initial admin user password (and e-mail address):

And finally you have fully working appliance: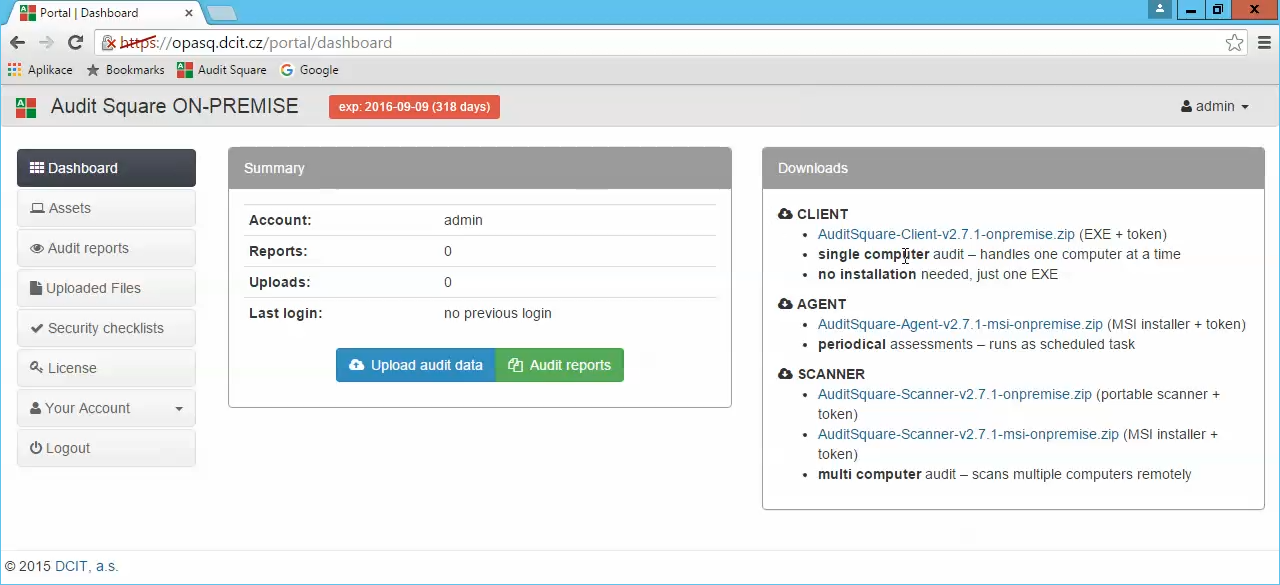 FAQ
Q: Does on-premise OVA image work with VMware Workstation?
A: Our OVA image unfortunately does not work with VMware Workstation because we use some templating features which are not supported by VMware Workstation. It is not intentional but without those features the setup via vSphere Client wouldn't be so easy.